Practice Update
NHS Patients, staff and visitors must continue to wear face coverings in healthcare settings
England's Chief Nurse has today reminded the public that everyone accessing or visiting healthcare settings must continue to wear a face covering and follow social distancing rules.
Covid restrictions will end in many settings in England from Monday.
However, Public Health England's infection prevention control guidelines and hospital visiting guidance are set to remain in place for all staff and visitors.
That means NHS visitor guidance will stay in place across all health services including hospitals, GP practices, dental practices, optometrists and pharmacies to ensure patients and staff are protected.
Staff, patients and visitors will also be expected to continue to follow social distancing rules when visiting any care setting as well as using face coverings, mask and other personal protection equipment.
The NHS will continue to support staff in ensuring that the guidance is followed in all healthcare settings.
Covid Vaccination Centres
Now that more doses of Covid-19 vaccines are available, the NHS is able to open more vaccination services, including the first Vaccination Centres.
People who are eligible and who live near these new vaccination services will receive letters from the NHS Covid-19 Vaccination Booking Service, telling them how they can book their appointment.
The NHS is rolling out additional services quickly, but it remains important that the public don't try to book or go to these services before they receive their booking letter.
And when you do book an appointment, please make sure you attend.
You may receive a letter from the national NHS Covid-19 Vaccination Booking Service inviting you to book an appointment at a regional Vaccination Centre, the closest of which is at Millennium Point in Birmingham
If you receive the letter from the national service and can travel to the Vaccination Centre safely, we recommend that you book using the details the letter provides.
If you are unable or don't want to go to a Vaccination Centre, you can choose to wait and get your vaccination here which is the local vaccination hub for patients in this area.
We have started vaccinating patients over the age of 80 years of age and are inviting people in according to the criteria and prioritisation set by the Joint Committee on Vaccination and Immunisation (JCVI), and will contact you when it's your turn.
Like the rest of the NHS we are working to offer vaccines to everyone in the top priority groups by the middle of February.
Please do not contact us if you haven't received an invite yet. We are very busy at the moment and doing so could prevent a patient who needs our help from getting through. We will contact you when it is the right time for you to book your appointment. Please click the link below if you require more information.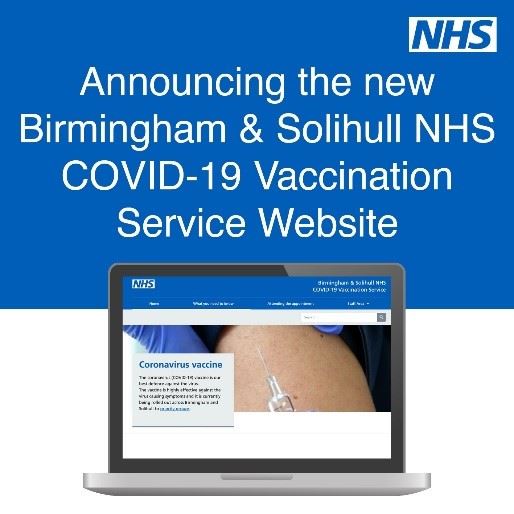 Birmingham & Solihull NHS Website
If you have any questions about the COVID-19 vaccine, Birmingham & Solihull NHS have launched a new website to help.
Find out about eligibility, what to expect when you attend an appointment, and other useful FAQs by visiting https://bit.ly/2MICf1y.
Do you have questions about the #COVID19 vaccine?
The new website has useful FAQs that might help answer your question. Visit: https://bit.ly/2L3OK7w